【科學的啟智運動 - 健腦操Brain Gym®】 動手動腳「腦」力大提升
21/10/2021
[文章刊登於HKCSS Institute 課程手冊 Prospectus Vol.31 (Oct 2021 - Mar 2022)]
文: 許澤洲
你近來是否經常感到疲累,覺得精神難以集中,以致工作或學習效率下降?或者有「大頭蝦」的情況出現,十分善忘甚至重複已講的說話?其實這與我們大腦結構息息相關。研究發現,從20 歲起,我們大腦體積每10 年便會收縮 2%;到了40 歲時,每天會減少1 萬個大腦神經細胞。1 難道沒有方法救救我們的腦袋嗎?有,讓腦袋做做運動吧!

腦袋都可以做運動?對!已有許多實驗發現,運動和大腦的認知有關係。2 HKCSS Institute 在6 月邀請到美國健腦操協會註冊導師及顧問吳漢威先生舉辦「健腦操提升大腦運作」工作坊,與同工們分享如何透過健腦操(Brain Gym®) 提升大腦運作,令身心更健康。
透過肢體運動提升大腦效能
我們身體的每一部分都跟腦部有著密切的神經聯繫,身體不同部分的狀況能夠有效反映出腦功能的問題。大腦既指揮我們的身體,但同時亦會受身體運動的影響;健腦操正是利用身體跟大腦的這個互動原理,透過肢體運動有效地改變腦部的運作效率,提升大腦效能。

健腦操(Brain Gym®)是由美國保羅丹尼遜博士(Dr. Paul E. Dennison)於1969年透過研究教育、心理學、腦功能學、肌肉運動學等學說創立而成。目前健腦操已在全球超過120個國家教授;在教育、運動及工商層面上都被廣泛應用。3
健腦操與工作及學習之間的關係
健腦操透過身體的動作,增強我們對身體的覺知度,有效促進腦部整合,提升大腦運作水平,使個人在工作、學習及情緒管理方面更得心應手。無論是小朋友或大朋友都可以透過健腦操去改善大腦運作。
【學習篇】
1995年美國華盛頓大學醫學院的研究發現,小腦發達程度與學習能力有著密切關係。曾有案例證實,患有讀寫障礙的小童在持續練習健腦操一個月(每天15分鐘)後,能成功改善其書寫時左右顛倒的情況。4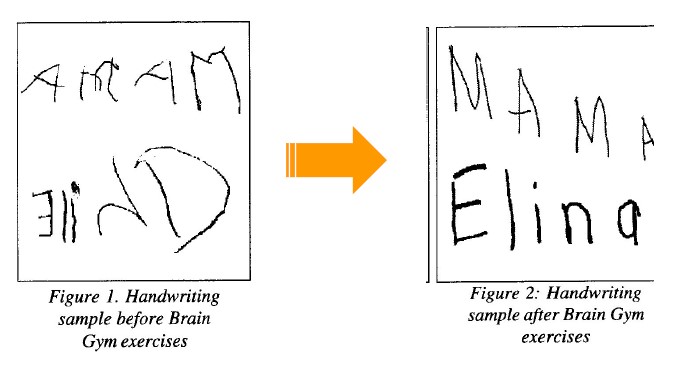 【工作篇】
在工作方面,健腦操能提升大腦神經訊息傳遞速度以及左右腦之協調性及整合,從而令身體及腦部在最佳的狀態下接收及傳達訊息。此外,健腦操亦有助我們有效管理自己的情緒及作自我減壓。在長時間的工作及會議後,健腦操可即時為大腦充電,繼續保持優良的工作效率。

大家不妨在工作或學習之前練習「開腦預備四式」,為大腦熱身,令工作或學習更得心應手。但切記,健腦操不宜在晚上或是睡覺之前做,不然便要「眼光光,等天光」了!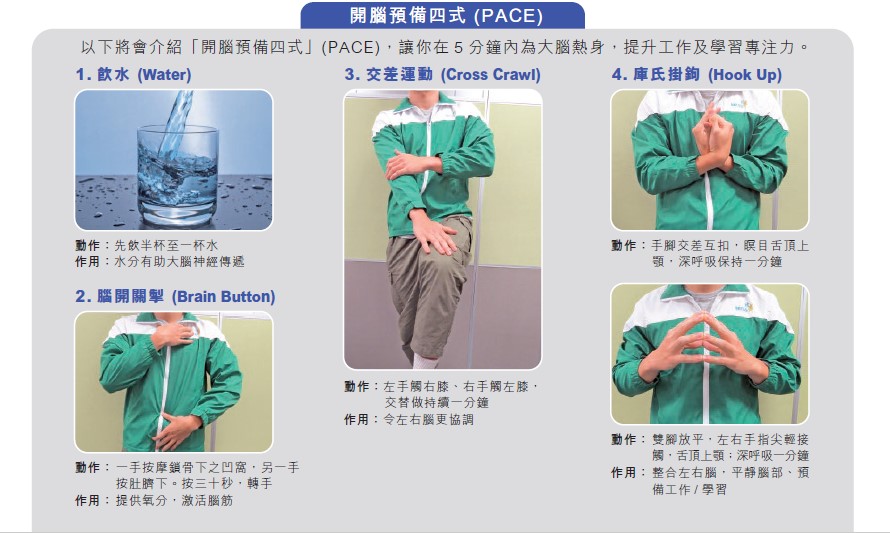 1 Old before your time: When your body really starts going downhill. (2008). Daily Mail.
2 曾秋華(2009)。《運用腦神經科學於教學實務之研究:探究「與腦相容」的教學實踐》。臺灣:臺北市教師研習中心。
3 Professional Coaching & Training Institute. Brain Gym Certificate Course.
http://www.pcti-hk.com/wp/bg101-certificate-course/.
4 Olga Kuznetsova, MD and PhD , Gelia Kudryavtseva , MD State Institute for Postgraduate
Medical Studies, Dept. of Manual Therapy , Acupunture, and Neurology, Novkunetsk, Russia.