About HKCSS Institute
The Hong Kong Council of Social Service (the Council), together with its over 490 Agency Members, not only promote the social welfare service development in Hong Kong, but also strive for building a welfare sector that is highly accountable, efficient, effective and responsive to social needs so as to uphold the long-term sustainable development of society and the well-being of our citizen. In today's dynamic and competitive environment, one of the key factors to bring our mission to life is continuous development and updating through lifelong learning.
In celebration of the 60th Anniversary of the Council in 2007, the HKCSS Institute (HKCSSI) is established bearing the mission of Enhancing Professionalism, Promoting Competencies. HKCSSI promotes life-long learning in the Sector through trainings, seminars, symposiums with an aim to foster the growth and development of NGO practitioners' and the Council's Agency Members.
Vision and Mission
Vision
HKCSSI aspires to be a leading and sustainable professional development platform for the social service sector.
Mission
To provide quality learning programs and resources to facilitate professional knowledge building in order to develop and maintain a vibrant, diversified, proactive and sustainable social service sector.
Strategy Committee on Talent Development
Mr. KWOK Lit Tung
Chairperson, Strategy Committee on Talent Development
Individual Capacity
Foreword
HKCSS Institute facilitates the teaching and sharing of professional knowledge, ideas and experience among practitioners, managers and leaders of the social service sector dedicated to make Hong Kong a better society.
Hong Kong demographics and family structure are changing rapidly. Together with the integration and closer cooperation with our motherland, our social service sector is under pressure to expand capacity and to improve quality of services to meet the increasingly complex and demanding needs of our society. Under this background, HKCSS works with local and international professional and academic bodies to provide education to practitioners and leaders to enhance their knowledge, accountability, efficiency and effectiveness in their respective area of expertise. In the process, I hope we can develop sustainable, effective and practical social service models and databases that will serve our community well. Leveraging on our success, I am certain that we can make important contributions to the social development of Hong Kong and Mainland China.
| | |
| --- | --- |
| Mr. KWOK Lit Tung | Individual Capacity |
| Ms. CHAN Ching Yee | Executive Director, Hong Kong Association of Gerontology |
| Ms. CHAN Fung Man, Angel | Assistant Chief Executive, Christian Family Service Centre |
| Ms. HUI Wai Kuen, Verena | Acting Assistant Director, The Boys' and Girls' Clubs Association of Hong Kong |
| Ms. KEUNG Choi Yin | Assistant Director, Hong Kong Sheng Kung Hui Welfare Council Limited |
| Ms. Judy KONG | Chief Executive, InspiringHK Sports Foundation Limited |
| Mr. Billie LAU | Director, The Boys' and Girls' Clubs Association of Hong Kong |
| Ms. LEE Man Shan, Emily | Deputy Chief Executive, Hong Kong Young Women's Christian Association |
| Ms. LEUNG Siu Ling, Ivy | Chief Executive, Christian Family Service Centre |
| Mr. LEUNG Yiu Fai, David | Principal Advisor, MTR Academy |
| Ms. LEUNG Yuk Kuen, Agnes | Assistant Chief Executive, Evangelical Lutheran Church Social Service-Hong Kong |
| Ms. LI Chi Mei Cross | Deputy Director (Child and Family), Hong Kong Christian Service |
| Ms. LI Yuen Fun, Luciana | Executive Director of Hong Kong Academy of Social Work, Hong Kong Social Workers Association |
| Dr. LUK Che Chung | Individual Capacity |
| Ms. Maggie TAM | Public Policy Manager, Hong Kong, Macau and Mongolia, Meta |
| Ms. Yvonne YEUNG | Chief Executive, Hong Kong Young Women's Christian Association |
HKCSS Institute 10th Anniversary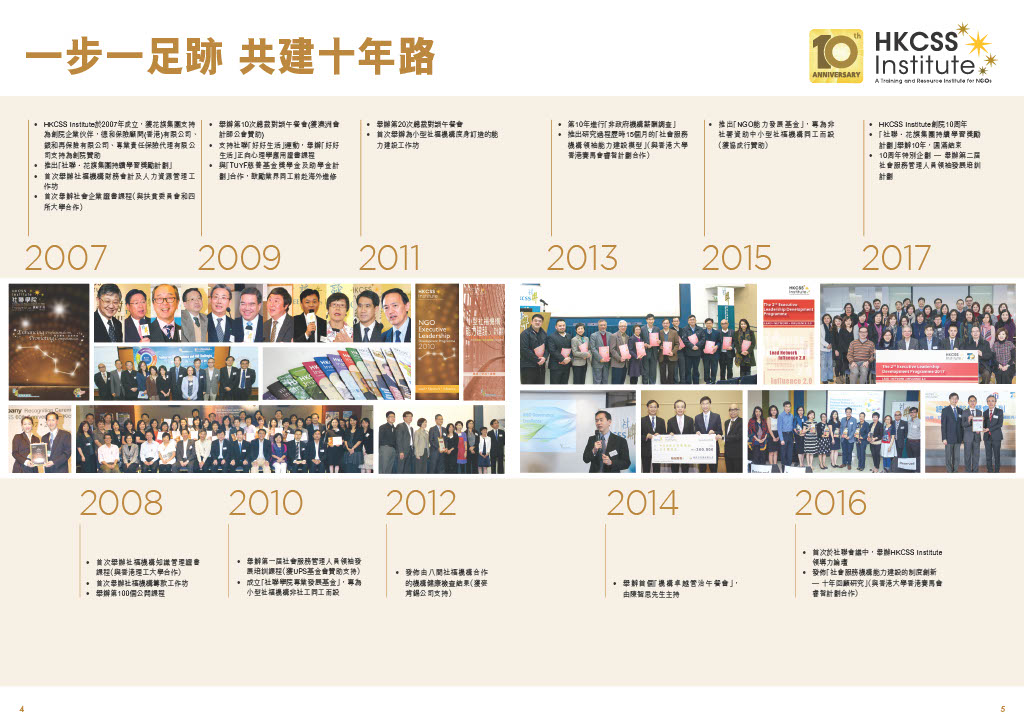 Services of HKCSS Institute
The HKCSS Institute demonstrates the NGOs' commitment to become a vibrant and creative sector. NGOs are foundation of a Caring and Just society. An effective, efficient and competent social service sector would surely contribute to a cohesive, just and sustainable society. In working with professional bodies, academic institutions and social service organizations, the HKCSS Institute play a key role in knowledge management and resource accumulation for the NGO sector. (Download our "Brochure on Training Services & Partnership")
| | |
| --- | --- |
| Certificate Courses | Certificate courses are provided in partnership with academic institutions and professional organizations to meet the strategic needs of the NGO sector. The curriculum, which integrates cross-professional knowledge and practical wisdom of NGOs, will be evidence base. There are also development of cases studies, practical tools and learning kits. |
| Seminars & Symposiums | Seminars and symposiums will focus on sharing of experience and wisdoms among service supervisors, managers, senior executives, and board of directors. Experts and CEOs of public and business sectors will also be invite to share their experience and insights. |
| Professional Enhancement Courses | Professional enhancement courses will be provided in collaboration with social service organizations in promoting sharing of good practices. The courses target to help front line to mid level staff to enhance professional competence and reflect on their practical experience. |
| Intensive Courses & Short Courses | Intensive coures and short courses wil be provided for NGO practitioners to enrich their creativity, vision and personal competence. |
| Customised In-house Training Courses | The Institute will provide customised management training programmes upon request from NGOs. The purpose is to enable individual to have tailor-made workshop to meet specific needs and requirements. The service includes course design and arrangement of trainers. |
| Executive Development Programme | Executive development programme is specially designed for NGO mid-level executives based on the Competency Model for NGO managerial staff. It aims at equipping them with the necessary skills and attributes needed to an effective manager in dealing with people and the external environment so as to have contributions in organization development. |
| Overseas Scholar Invitation & Study Coordination | HKCSS can support NGOs with its vast international network in organizing local trainings with overseas speakers or organizing overseas study trips to broaden the horizon of the sector for best practice exchange. |
| Social Research Project Partnership | HKCSS has been working with NGOs in developing and implementing research projects to support evidence-based service development with a social research platform. Interested parties are welcome to discuss ideas on research partnership. |
| NGO Management Consultancy Service | HKCSSI provides comprehensive management consulting services for NGOs to enhance management and service effectiveness, which includes service process improvement, organization review and development, HR system review and reorganization, image audit and enhancement, etc. |
Cross-Sectoral Partnership & Support
The Institute promotes and facilitates cross-sectoral professional knowledge building by partnership and collaboration with tertiary institutions, professional bodies, business organizations and social service organisations to support the offering of training courses, seminars, incentive schemes, etc for the development of the social welfare sector.
- Founding Corporate Partner and Founding Sponsors
- List of Cross-Sectoral Partners