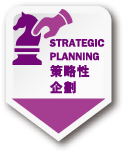 Short Courses
【Zoom Online Class】Organizational Design, Manpower and Succession Planning
Introduction
In the 21st century, human resources have truly become the most important assets. While every organization competes for talents, knowledge in designing an efficient organizational structure and manpower plan is one of the most critical leadership competences. Besides, in the talent war, employees leave their organizations with crucial experience, knowledge and network. An effective succession plan is necessary for any organizations to ensure a sustainable operation and a smooth transition.
Objective
In this programme, participants will learn to use a systematic and practical approach to review and improve their organizational design. They will also assess and predict the current and future manpower needs so as to develop a winning manpower plan and succession plan. References will be made to best practices in the business world to facilitate participants' learning and applications.
Content
Steps in reviewing and designing organizational structure
Manpower planning tools
Talent assessment and identification
Develop plans for talents
Succession planning for sustainability
Details
Course Code
:
21B-12
Date(s)
:
16 Mar 2022 (Wed)
Time
:
0930 - 1700 (6 Hours)
Venue
:
Zoom Online Class
Target Participants
:
NGO Managerial & Supervisory Staff
Class Size
:
30
Language
:
Cantonese (supplemented with English)
Fee
:
HKD 1,140.00
HKD 1,060.00 (For HKCSS Agency Member Staff Only)
HKD 184.00 ("Small NGO Capacity Development Subsidy Programme"- the highest subsidy amount is 80% of the course fee. Please refer to "Financial Assistance".)
Early Bird Fee
:
HKD 920.00 (Payment on or before 08/03/2022 for HKCSS Agency Member Staff Only)
Enquiries
:
2876 2434 or

[email protected]

Speaker(s)
:

Mr. WONG , Anthony 黃德健先生

Director

SIMCO Solutions and Greater Bay Area Institute of Business & Management

Mr. Wong has more than 20 years of HR leadership, training, consulting, coaching and research experience in Hong Kong and across Asia. He has been the Head of HR in many reputable local and multinational companies from different industries like Hutchison Whampoa (conglomerate), Johnson Electric (engineering), Sony (hi-tech), Avery Dennison (manufacturing), Nestle (consumer products), RedMart (eCommerce), Dairy Farm (retail) and DHL (supply chain). He is also lecturer at various universities and HKIHRM.

Mr. Wong holds a BBA Degree in Marketing, two Master Degrees in Social Science and Business Research and is a Doctorate candidate in Leadership and Management. He is a Fellow Member of the Hong Kong Institute of Human Resource Management (HKIHRM), and a DDI and FranklinCovey licensed trainer.
Remarks
Quota is set for each course in "Small NGO Capacity Development Subsidy Programme". All applications are subject to approval. For details, please click HERE .
【The class might be rescheduled in response to the pandemic situation. HKCSS Institute will contact and inform the participants on the latest course arrangement if needed.】