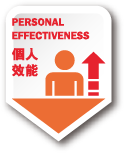 證書課程
Certificate for Newly Promoted Supervisors and Managers in NGOs 2023 (NGO 新晉升主管證書課程 2023)
簡介
In this ever-changing era, newly promoted supervisors and managers are confronted with different challenges that arise with their role transition. They have to seamlessly evolve from individual contributors to influential people managers, adapting to a new mindset and skillset required for their role. The question arises: with the new leadership responsibilities and relationships, how can these managers effectively boost their personal effectiveness and leadership skills to guide their teams to work towards the common goal of their service unit and organisation?
This comprehensive 3-month learning journey, covering Leading Self, Leading Team and Unlocking the Power of Influence, is specially designed for newly promoted supervisors and managers to broaden their skills and mindset as an enabling and influential leader.
Going beyond conventional in-class learning, this programme will bring together participants from diverse background and build a mutual learning and support network across services and organisations. Experience sharing and thought exchange among participants will be further facilitated through various group coaching and experiential learning activities, fostering a sense of community and bonding among peers.
目標
To develop and equip participants with the needed skills and mindset as an enabling leader who is ready to develop team members and support organisational growth in the new era
To facilitate participants to develop a deeper understanding of their leadership style, influence their teams positively and manage changes effectively
To foster a shared learning environment and build a mutual support network for participants across services and organisations
---
【Programme Features】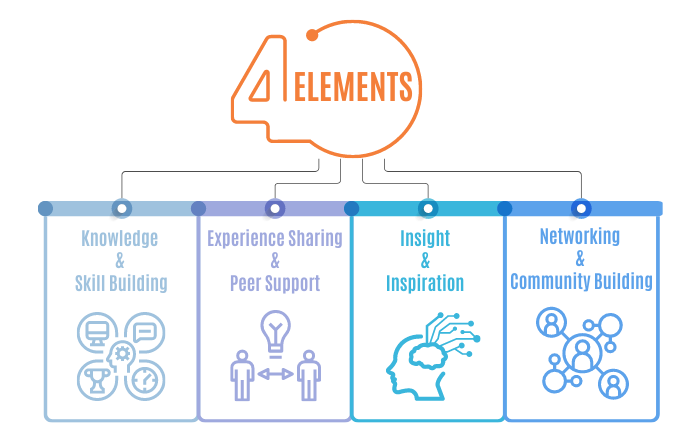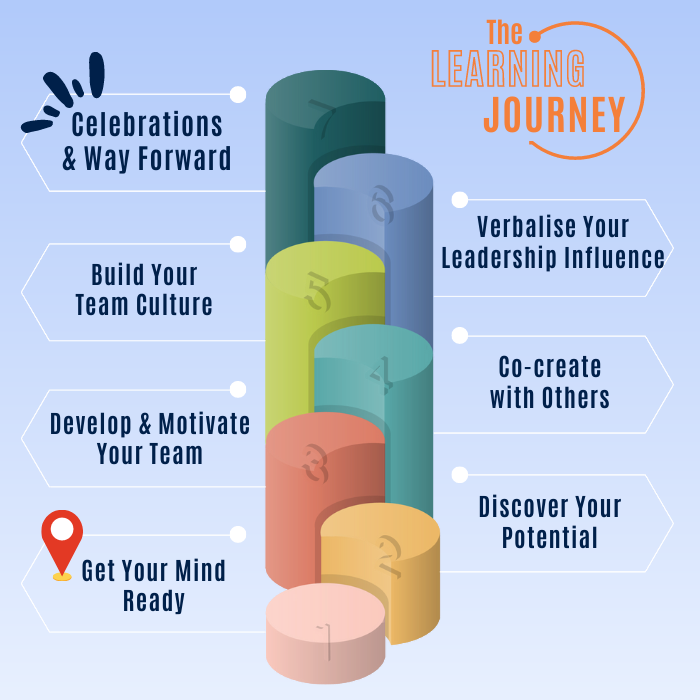 ---
【Important Dates】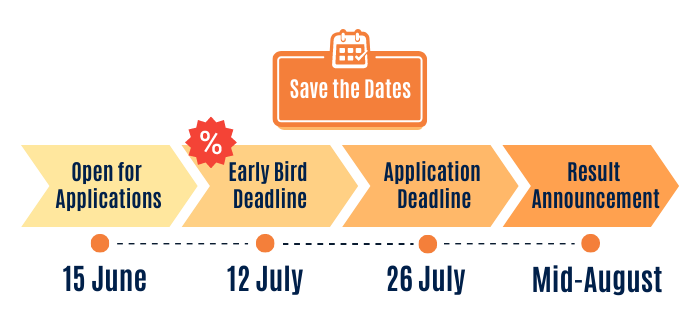 ---
【Application Guidelines】

1. Ready your HKCSS Institute Member ID
(If you are not yet registered as HKCSS Institute member, please click here for member registration. The membership login ID and password will be sent to you by email within 3 working days.)

2. Fill out the Application Form

3. Invite your referee(*) to fill out the Recommendation Form
(*) The referee can be the direct supervisor of the participant OR senior management of the participant's organisation OR HR manager of the participant's organisation.

4. Upload the completed Recommendation Form HERE

5. Send a crossed cheque(*) payable to "The Hong Kong Council of Social Service" to HKCSS Institute, Room 906, 9/F, Duke of Windsor Social Service Building, 15 Hennessy Road, Wanchai, Hong Kong.
(*)Please write your English full name on the back of your cheque.

6. Application Completed!

7. Result announcement in Mid-Aug by email
---
【Programme Schedule】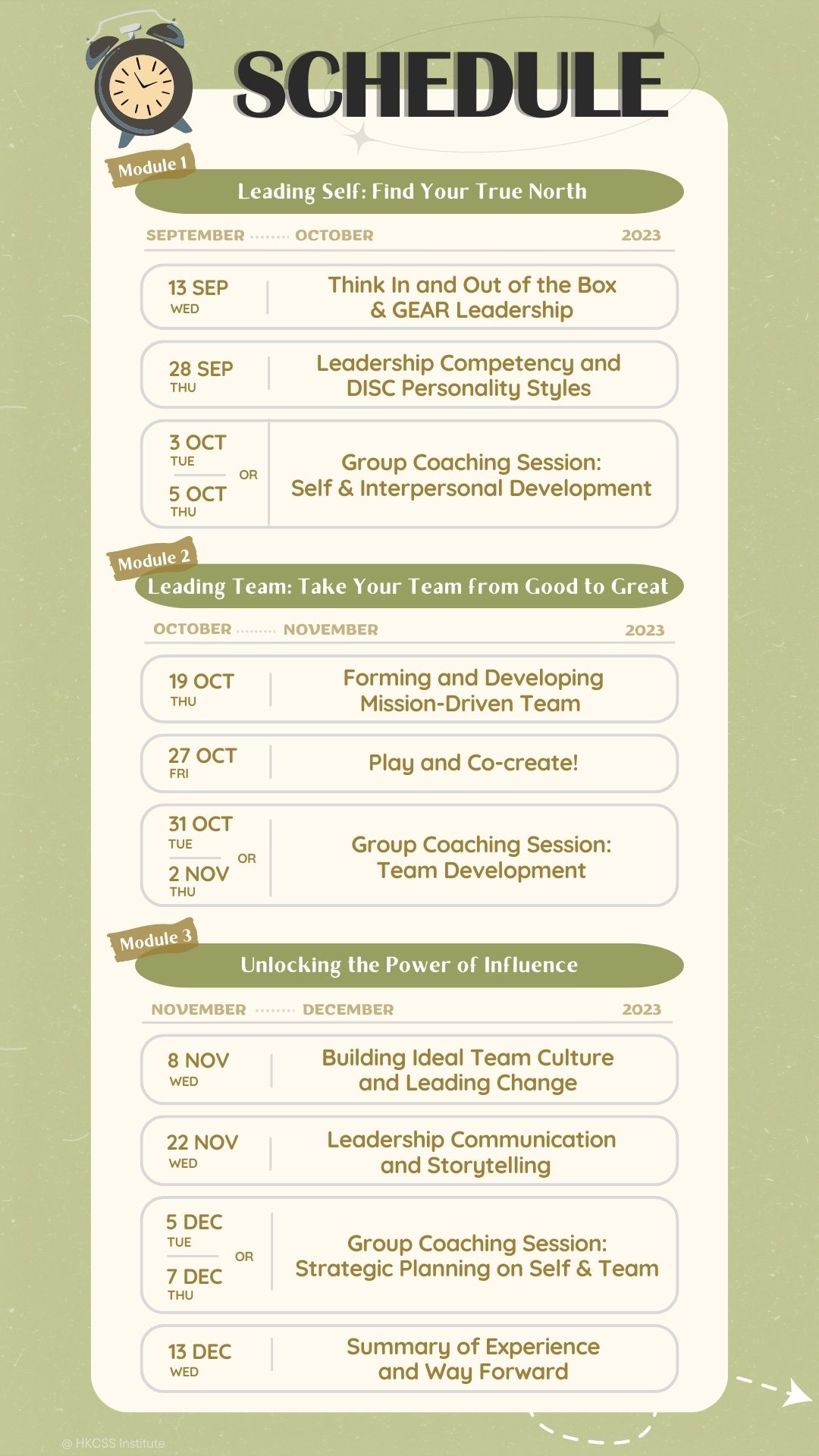 ---
詳細資料
課程編號
:
23B-C01 to C10
日期
:
13 Sep 2023 to 13 Dec 2023
時間
:
52 小時
對象
:

Newly-promoted supervisors and managers (preferably within 3 years) with people management role and direct report subordinate(s)
Priority will be given to applicants with recommendation from their supervisors/organisations

費用
:
港幣 18,000.00
港幣 16,800.00 (社聯會員機構職員)
港幣 5,840.00 (「小型機構人才發展資助計劃」最高資助額為學費60%,詳請瀏覽-「資助計劃」內容)
早鳥費用
:
港幣 14,600.00 (在 12/07/2023 或之前繳款, 只限社聯會員機構職員)
查詢
:
2876 2470 or 2876 2434 or

[email protected]

主講嘉賓
:
備註
「小型機構人才發展資助計劃」設有名額,申請者須經批核,詳情請按此。
---
Certificate Arrangement
Certificates will be awarded to participants achieving at least 80% of the total programme hours.
課程內容